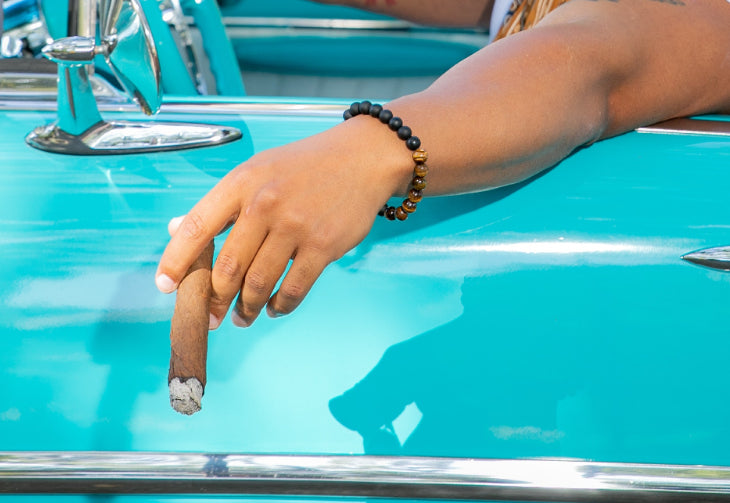 Cuban cigars come with a solid reputation and a seal of quality, but due to this, however, they are often replicated. Fake Cuban cigars often make their way to the market, unbeknownst to consumers. It is important for cigar manufacturers to be clear about where their tobacco come from. Findy Cigars, for example, use tobacco seeds that originally came from Cuba and then are grown in a number of locations around the world, such as Indonesia, Nicaragua, Ecuador and the Dominican Republic - all locations known for their premium tobacco. While this tobacco might be premium, there are still those who will attempt to sell fake Cuban cigars to tourists and other less informed consumers. Let's dive into some of the key ways to spot a fake Cuban cigar and even some that only discerning aficionados will truly notice. 
Analyze the cigar box for key markings. 
Cigar boxes are the first thing you see after purchase, and there are a few things to look out for. Firstly, real Cuban cigars will have the Habanos seal at the top right-hand corner of the box. If the cigars were packaged after 2010, then there will also be a hologram logo in this corner that reads "Hecho en Cuba" or "Made in Cuba". This seal can be hard to replicate, so many fake Cuban cigar manufacturers do not include it. The boxes, in general, will not be made from glass or plastic and instead will be from more traditional wood. The wood will generally have some phrases engraved or stamped onto the bottom, such as "Hecho en Cuba", "Totalmente a mano", and "Habanos S.A." Many of these phrases on counterfeit boxes are often spelt incorrectly.
Find the Cuño stamp on the cigar box. 
The Cuño stamp should be found at the bottom of the box underneath all the other information. It includes two different codes that can give an insight into the production date of the cigar. If you cannot verify a Cuño code, then the chances are the cigars are fake.
Compare the band of the cigar to known authentic Cuban cigars. 
Each individual cigar will have a band, and in fake cigars, the band is extremely similar to the real thing. The best way to check the cigar bands is to have a cigar of the same brand that you know is authentic and directly comparing to the fake Cuban cigar. Additionally, check for spelling errors, missing words or letters and different logos.
Authentic Cuban cigar bands will be of high-quality and are often embossed, giving them a texture. This takes time and money to do, and many fake brands do not go to this trouble. Therefore, if the band is simply flat and plain, it is likely to be fake.
Ensure the cigar is uniform and symmetrical.
The body of the cigar can also show some tell-tale signs. Cuban cigars are known for their uniform size and shape and should be relatively symmetrical. The colors of the tobacco used in the cigar should also be similar and uniform. The head or top of the cigar should have a three seam cap and an angular shape.
White cigar ash can denote a fake Cuban cigar.
The best way to tell whether a Cuban cigar is fake or not is the ash produced when they are burning. Cuban cigars have a slow burn, and the ash produced is a grey color, almost like salt and pepper. Other cigars that are not made in Cuba have ash that is brighter or whiter. This is a tell tale sign of the source of the cigar. However, it is important to note that the ash will have no bearing on the quality of the cigar.

Fake Cuban cigars can be hard to spot. Our team can help. 
Spotting a fake Cuban cigar, even with the tips above, is not an easy task! Most consumers wouldn't notice the intricacies that help spot a fake Cuban cigar. Our team at Findy Cigar Company & Hookah Lounge has seen many fake Cuban cigars and knows what to look for. If you think you have a fake Cuban, stop in at our South Tampa store and let our team take a look! You can also give us a call at (813) 831-6700.